My Nuffnang Story
It was in 2008 when blogging was the 'IN' thing in my uni wtf.
That time I was ceh no biggie cos I started blogging since May 2004.
Was really close to this bunch of dudes and they always talk about the ads that was on their blog.
One of my bestie, Loong donkey would always pester me to sign up for Nuffnang so that I can earn money wtf.
And I'm like mehhh. I want my blog to be ad-free. Ads are ugly. I don't want my blog to be commercialize.
BUT… I can't stop pretending when they talk about clicking on each other's ads wtf. And when I visited their blogs, the ads are always there animating. Sounds like quite fun yo!
So I succumb into peer pressure and sign up to Nuffnang and never look back.
I wasn't really active in Nuffnang back then, since all the movie screenings and events are in KL, I knew I didn't stand a chance cos I was stranded on the other side of the world, Labuan.
Wasn't really active in blogging during my uni years/ internship as well cos I was busy living in reality wtf.
All that changed when I simply join the Altitude movie contest and I won my first screening passes!
Damn happy OK. I traveled all the way from Sitiawan to KL for the screening wokay! Invited my bestie as my plus one and met famous faces like Robb Chew and Dusty.
I think this is the only movie review that I did cos I don't usually do movie reviews wtf.
[On a side note, I read some of y'all's My Nuffnang Story and you guys mentioned that you went to Altitude screening as well. Y I NO KNOW YOU THAT TIME WAN?!]
————————————————————————————
My first ever meet up with bloggers was the dinner at Marche, The Curve.
It was love at first sight and ever since then I'm with Sherry wtf.
HAHAHAHAHAA JK.
It was my first time meeting all those who've I've chat with over the past few months. Was a bit nerve-wrecking as my first time meeting people from online.
We celebrated Jimmy's birthday and had him give us some love wtf haha.
We continue keeping in touch in Innit and later in January 2011, Xing organize a lou sang gathering in Sri Melaka, One Utama.
Damn a lot of bloggers lor! That time I don't know like 75% of them. Was a little intimidated especially with Shah's presence.
Got to talk to him a little bit and found out that he was from MCKK and when I told him that I'm from ACS, Sitiawan and… the debate rivalry came out lolz!
MCKK and ACS, Sitiawan are like Britney Spears and Christina Aguilera in an intellectual level wtf. Both schools always compete with one another in English debate, Perak state level. Unfortunately, he was the debater when I was 14 and I only joined the debate team in my school a year later (which when he had graduated from high school). So we didn't had the chance to cross path then and look where we are now. All thanks to who? Hint: NN. Woots!
Good times with them 🙂
——————————————————————————————————————————————-
We had our occasional meet up.
Like Carmen's CNY Pot Luck and I wrote about how I am very happy living in KL all alone #foreveralone and have these group of bloggers as my second family here 🙂
Because of Nuffnang I had the opportunity to meet my favourite blogger – Audrey Ooi, fourfeetnine.com at Frames, Sunway Pyramid!
She's so kecik but eyes bigger than mine wtf.
I was telling her that I mentioned her in my final year presentation cos I believe in the power of virtual word-of-mouth blogging wtf.
And what a good surprise to see the current most influential blogger (yet to be dethroned this 16 of December), Wendy xiaxue.com there!
————————————————————————————————————————————————————————————————————
Apart from all the movie screenings and event invitation, I popped my concert cherry at MTV World Stage!!
VIP tix sumore. Massive love to Nuffnang and Twisties!
I have always loved writing. It begin from penning down my thoughts in my diary since 11. With Nuffnang, my writing career soar wtf my passion for blogging grew.
I had the opportunity to expand my writing to product review during the event of DiGi Buka Puasa at The Bee, Jaya One.
Had the once-in-a-lifetime chance to review the sexy HTC Evo 3D.
It was an eye-opening experience as all these while I have been known as a Samsung advocate amongst my friends.
Been given the chance to play with the incredible gadget for 14 days and now I'm all about HTC and Android #digievangelist #htcevangelist #androidevangelist
Being in a blogging community has certainly widen my circle of friendship. I have become closer with some of the bloggers to the extend that we became best buddies in such a short period of time <3
I had the opportunity to get to know some amazing friends like Sherry, who was there for me since Day 1 of my meet-up with the Nuffnangers.
And I'm happy that I was with her when she first stepped into the land of cats Kuching.
We had an awesome time in Rainforest World Music Festival. It's insane, I wana go there again next yearrrr!
It will be a long shit ass post if I were to write about how Nuffnang revolve around my life because seriously… every day I breathe blogging and Nuffnang.
With Nuffnang, I had the opportunity to do what was once my dream a year ago.
See that…? I recently got my first ever advertorial job! Yeah, talk about being paid to write. Woots! Though the pay wasn't that much but I was so happy, I told the whole wide world about it 😀
And recently, I got to watch this Swedish movie called, Buddy. Tickets were given by Nuffnang under Glitterati Plus.
It was so good. Way better than all the Hollywood movies playing in the cinema. I can relate to the movie very much cos the main character, Kristopher is like the free-spirited me and cannot make decision wan. We tend to do what's best for the moment without thinking how it will impact in the long run. And Elwyn and I were truly lucky to watch it because… the movie was pulled down from cinema the very next day. So, thank you Nuffnang for the tix!
And and… I just won a pair of tix to Pitbull's concert. Also courtesy of Nuffnang.
So, Nuffnang… I do not need to mention or list down all the good stuffs about you. Bottom line is you have made such a big impact onto most of the bloggers' life, it is out-of-the-world! I can never say enough thank you for all the good times that I've been having this year. 2011 is certainly the best year of my life. You have opened up so many opportunities for me to grow as a person as well as have the chance to meet so many wonderful people. Thank you, Nuffnang from the bottom of my heart <3
———————————————————————————————————————————————————————————————-
Nuffnang is honouring bloggers around Asia Pacific for being virtually active wtf. No laaa… I'm talking about the prestigious, not-to-be-missed Nuffnang Asia-Pacific Blog Awards 2011!
Come 16 December 2011, 500 bloggers from around the Asia-Pacific region will flock to Kuala Lumpur, Malaysia for the Nuffnang Asia-Pacific Blog Awards 2011 in Putrajaya Marriott. The Awards aims to not only honour the region's best bloggers, but also to bring together blogger communities from across Asia-Pacific. The Nuffnang Asia-Pacific Blog Awards is brought to you by Volkswagen Malaysia and Putrajaya Marriott.
And since y'all are reading this, can I steal a minute or 2 of your time to please vote for my dearest friend, Chee Ching in the category of Most Original Blog Design. She is representing Malaysia, so #malaysiaboleh !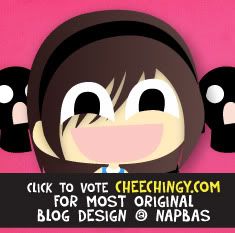 And today is her birthday so I expect at least 10 votes from y'all ya. Psst. You can vote for her every 2 hours wan.
Nuffnang, please let me go to #napbas to support Chee Ching yo! Because of you, I had become very close with some of the Nuffnangers and when one is nominated, WE MUST SHOW SOME SUPPORT!
Hope to see y'all there 🙂
Random Posts